The Best Fade Haircut Hairstyles this Summer Season
When it comes to styling, men are nowhere behind women! The era has gone, where men were not interested in accessorizing their personalities, this is 2019, where men have even more hair cut trends. Before time, there was a trend to outgrow hair, but nowadays, nothing can beat the intensity of the fade haircuts. It's all over the Internet; whether it be Zayn Malik or Brad Pitt – the fade haircuts are in fashion for men. Men tend to spend a plentiful amount of time while making their hair look right.
About Fade Haircuts Hairstyles
Fade haircuts are in demand nowadays, and men love to get a fades haircut no matter what the age. Fade haircuts start from short to even shorter. The good news is, that the fade haircuts work for any hairstyles; whether it be curly or straight, short or long. You can get a contrast of your hair with the shaded area.
Summers are the best time of the year to opt for a classic and short haircut. Beat the heat with these recognizable fade haircuts that are listed below. So, if you have a haircut scheduled this week, then this is what you need to review. The best fade haircuts are listed below, go through and ask your barber to give you an astounding look with a fade haircut that you choose. Gear up with your fade haircut, and get hold onto the Cyberpunk 2077 jacket – this will undoubtedly make you mark your spot among others.
Box Fade Haircut
Men are quite dramatic when it comes to a hairstyle. The Box fade haircut is a popular one among Black men; usually having curly or kinky hair. The haircut gives a dramatic look with an addition of attitude. The Box fade haircut seems like to have a rectangular box over the head, with closely-clipped sides and backs. The intensity of the haircut style may vary from low, medium to high.
Mostly, artists related to high-profile occupations and industries love Box Fade Haircut hairdos, especially music, body-building, aesthetic workouts, sports, etc. With this being said, we have witnessed singers adapting to this hairstyle, mainly engaging in hip-hop, jazz, rock & roll, and punk singing genres. This Box Haircut has gained popularity since the 90s and tends to give a funky-fancy look till the date.
Low Drop Fade Hairstyle hair cut
One of the most iconic hairstyles that have been a trend since ages, and it's none other than the Low drop fade haircut. The haircut gives a visible outline to the top hair, just like a rectangular box at the top with a depth of shaded are below. The fade cut goes down the head and smudges the shade with the skin.
The Low drop fade haircut is recognizable and is chosen by youth to enhance and highlight their youthfulness in a vibrant manner. This hairstyle allows more depth and a clear highlighted face. You can set up an appointment with a barbershop to get this type of haircut by visiting: dinosbarbershop.com.
Shadow Fade Haircut Hairstyle
If you desire to have noticeable hair textures for yourself, then this is the ideal haircut you must get. The Shadow fade haircut creates a blurry shadow from short to shorter on the sides. The haircut style starts from the lower side to the top of the head, leaving it longer. The lower-head region and the sides are shaded with a specific technique, which gives you the perfect hair shadow faded look.
The choice is yours; you can ask your barber to keep the intensity of the haircut low or dark. This haircut gives you a subtle look and tends to make you recognizable.
Skin Fade Disconnected Top Haircut hairstyle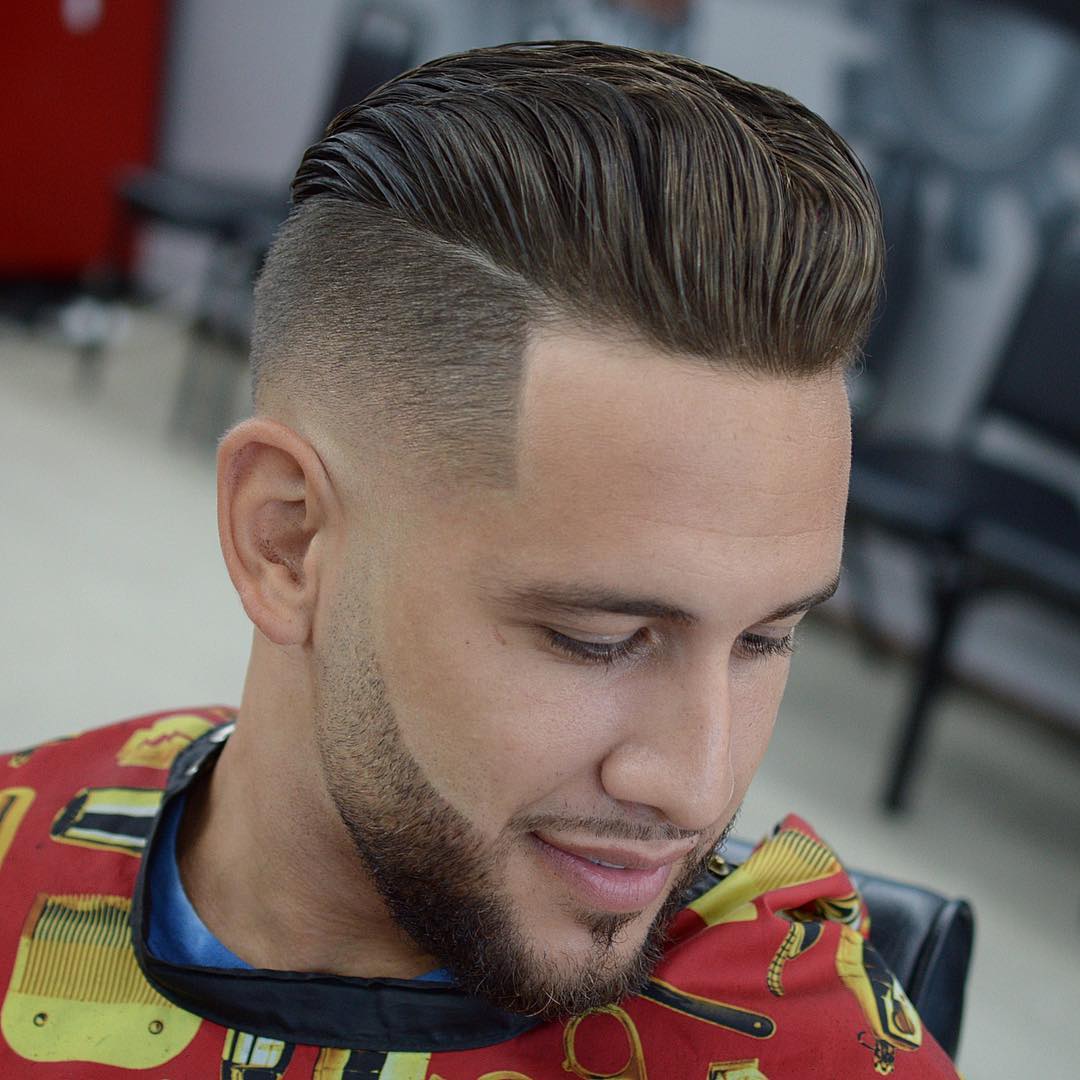 The name of the haircut defines the style itself. The skin fade haircut comprises a short back and sides, given a fade look as the skin. The disconnected top means having a much longer high-top on the head, which seems to be disconnected from the back and the sides. The sides are light and shaded with a dark boundary, which makes the top look like an individual area on the head. So, you can either choose a low, medium, or a high-shaded fade for your back and sides. It gives you a vibrant fade, which gives your top hair distinguishably noticeable to onlookers.
Having a disconnected top distinguishes your look when you stand among others. The hairdo looks are flawlessly stunning, which can make your hairstyle strikingly noticeable as you step out of the barbershop. If you are looking for a haircut that makes you recognizable; then this is the haircut that you direly need. For expert guidance, visit the team of professionals and embark on your experience.
Mohawk Fade Haircut Hairstyle
The Mohawk fade is about to give you a funky yet classic look. The haircut refers to a spiked top with buzzed sides that are faded to low. Without a doubt, one of the cleanest hairstyles you'll ever get, making you recognizable at the same moment. No matter what sort of hair you have, be it straight, curly, thick or wavy; the hairstyle will transform your look.
You can choose between a low, medium, or high fade. Mohawk look is quite popular among our youth and is trending immensely nowadays. The haircut will make you feel confident, and the spiked top in a crescent manner will outstandingly show your personality with a loveable hairdo.
High Fade Haircut with Long Textures
A high fade along with long extended textures is the haircut that resembles the Mohawk fade haircut. This hairstyle focuses on the length of the top hair and makes it quite recognizable. The back of the head and sides are scissor scrupulously enhanced with shaded exhibitions, which offers you discern and exceptional hairdo tones. As the fade reaches the bottom of the head, it gets lighter and smudges the look in the skin.
If you have curly or wavy hair textures, then you probably should go with the high fade cuts alongside long textures. It will enhance your facial features and will make you receive a lot of compliments.
Men seem to look more focused than women when it comes to getting a haircut. All they want is an attractive hairstyle and that one which goes with their personality. The fade mentioned above haircuts will make it easier for you to decide which one to go with. So, choose the hairstyle that satisfies you, and ask your barber to give you a new makeover with a pinch of classiness and funkiness.