The most important part of your fitness is matching your tireless efforts at the gym with the most nutritious diet. What you put on your plate influences the impact your workout has on your body. The foods you include in your regular diet should deliver a palette of ingredients that can boost energy, improve stamina, and support muscle building and healing during recovery. These foods are simple to digest and fast to replenish the body with everything it lost during the workout to benefit the user.
Diets may come, and diets may go, but including some extraordinary foods that can impact your overall health and fitness ensure you stay in the best shape. Here is a list of seven superfoods that can elevate the benefits of your workout by giving your body everything it is craving.
1. Greek Yogurt with Berries
Greek yogurt is a rich source of protein essential for your body post-workout. The compound helps to heal the muscles. Yogurt is easy to digest and comes with a large profile of nutrients such as vitamins and minerals. It also helps hydrate your body and boosts energy. Adding some refreshing berries to your yogurt can elevate the benefits of all the ingredients.
Berries are easy-to-digest carb bites that help to fuel your workouts. They also come with a strong nutrition profile containing antioxidants, phytoflavinoids, vitamin C, and potassium that helps in improving the rate of healing with their extraordinary anti-inflammatory properties. You can also add some nuts, dried fruits, or wholesome carbs such as oats, granola, or quinoa to the mixture. Add natural sweeteners for the best benefits.
2. Spirulina
Spirulina is slowly catching up across the globe as a powerful health supplement rich in antioxidants and a variety of other nutrients. Spirulina is a salt or freshwater organism that contains vitamin B, copper, iron, and protein, all of which can improve the results of your workout. It is also a vegetarian source of omega fatty acids that can give powerful anti-inflammatory properties to benefit your recovery period.
It can reduce the effects of oxidative damage in the muscles induced by exercise and alleviate muscle fatigue that can help you throw in a few extra minutes during your workout. It can boost endurance and improve muscle strength in individuals. You can add spirulina powder in the required dosage to your after-workout protein shake for the best benefits.
3. Beetroots
Soaked in enriching color, beets are beneficial foods to include in your workout regimen if you have a long road of training ahead of you. The food has received praise for its incredible energy-boosting properties that can improve your performance. It accelerates the oxygen and blood flow to the tired muscles in your body to keep them energized. It helps reduce the chances of muscle soreness and improves endurance significantly.
Having improved oxygen intake and output means that you can work out longer without feeling excessively tired. The nitrate content in beets improves the oxygen flow in the body to keep you active and energized throughout the session. It can give energy boosts like steroids do to enhance your workouts. You can look online to understand where to buy steroids of good quality.
4. Tomato Juice
A simple glass of tomato juice post-workout can be very beneficial for you. Consuming about 5 ounces of tomato juice a week can help you overcome free radical damage caused by heavy workouts. It also has powerful anti-inflammatory properties that improve the efficiency of recovery post-workout.
Tomato juice helps you hydrate immediately after a workout and ensures that you recover from tissue damage.  The juice can improve the rate of glucose recovery compared to most ingredients. It is the best and healthiest substitute for fizzy energy drinks post-workout. You can also add carrots, amla, or green leafy vegetables to the mixture that can improve overall endurance and strength.
5. Nut Butters
Nut butter is an easy and efficient way of enjoying the rich oil content of the superfood. They house ample protein content that makes the best post-workout food. Try to look for the purest nut butter that avoids fillers and additives. They are a healthy powerhouse to boost your energy levels during a workout and are a smart addition for a small meal right before you begin.
Having a simple meal such as whole wheat bread with some healthy nut butter can keep you full for longer and make sure you have enough protein for proper healing and recovery. You can try vegan options such as almond butter, sunflower butter, cashew butter, pistachio butter, and many other nut butter varieties to enjoy a delicious, wholesome meal.
6. Pumpkin Seeds
Dietary fats need to be broken down in your body into fatty acids to boost energy levels during and post your workouts. Pumpkin Seeds are a rich source of alpha-linolenic acids, which is an omega fatty acid necessary to fight inflammation in the body and boost energy levels. The seeds ensure that individuals recover faster from damage and muscle soreness after a workout and have enough usable energy to cope with muscle fatigue.
It is a potent ingredient that is also good for your heart health. You can sprinkle pumpkin seeds on top of your salad or other meals, such as oats, to enjoy the benefits. The seeds come with almost double the calories and fiber so improve your digestive health and provides enough energy to get through intense workout sessions.
7. Sweet Potato
Sweet Potatoes contain a mixture of rich nutrients, including vitamin C, A, and iron, that make the perfect ingredient for a balanced diet during your fitness routine. It is also a rich source of complex carbohydrates, with a low glycaemic index, that ensures you have a constant supply of energy throughout your workout.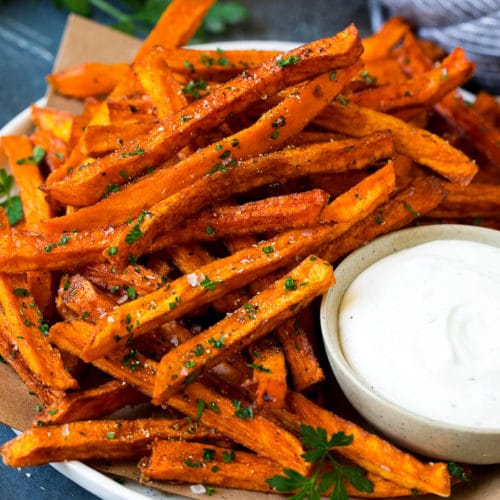 It also contains copper that helps to maintain tissue strength. The food is also rich in fiber so can improve your digestive health. Vitamin C also alleviates the breakdown of muscle tissues during workouts. You can enjoy a simple recipe of baked sweet potatoes to substitute for regular chips or use the ingredient to replace any recipe with potatoes.
Keeping your post-workout diet regimen on point ensures that your body has enough nutrients to heal and build up. The right ingredients help elevate the efficiency of fat burning as opposed to losing muscle when you work out.
There are several other superfoods you can also explore in your diet that include caffeine, pomegranate, bananas, chocolate milk, raisins, salmon, eggs, and brown rice. All of these foods help deliver the necessary levels of protein requirements of your body along with other nutrients that improve your health and wellness. They are easy to slide into your regular recipe and taste amazing while delivering the best benefits. You might also want to check out roidfactory for supplements that you can possibly include in your routine.
Read More – How To Lose Weight Naturally – Know Before You Go!
Read More – How Juicing Can Help for Hair Loss