A high bun hairstyle is always popular among brides for its classic look. Put your long hair into these high-bun wedding styles that are recommended by the top hairstylist. From sleek locks and key updos to intricate milkmaid braids, these hairstyles will take the wedding appearance to the next level.
Wondering what works like magic for the wedding hair updo? It is by keeping your hair out of the way. For brides who want a hassle-free marriage hairstyle, the top bun hairstyle in an array of styles is your calling for sure.
As a marriage hairstyle, top buns are always in trend and work amazingly with choker necklaces and drop earrings. This kind of hairstyle looks better on the fuller-rounder face, as it pulls some weight off of the face and makes it look longer and slimmer.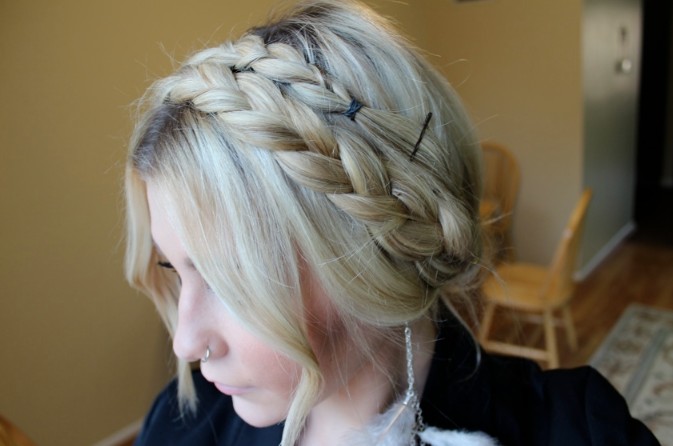 If you want to show off your individuality, then this hair updo is perfect. It will look complicated, but it is one of the easy and quick tips for your healthy hair you can follow. It is a simple updo where you tie two braids on the top of your head by parting your hair into two pigtails and securing one of them with the hair tie. This intricate hairstyle has become increasingly popular on the red carpet also.
The loosely fixed-top knot bun looks more adorable and works well for a wedding. You can add some flower elements, and it will not only look cool but will also give the bride a glamorous hair look. If you've got the bright blonde color hair, it will look gorgeous.
To give more versatility, the jeweled bun is perfect for you. This style is a perfect fit for any royal wedding and you can add different hair accessories such as crystal broach. Wearing it for your wedding would be the best way to achieve its full effects.
The sleek top knot bun has been everyone's go-to hairstyle for all ages. Begin making the look by pulling your hair into a high ponytail and wrap it around the baseline of the ponytail. At last, secure it with the hair tie. To add volume to your bun, you can use a hair donut to make it fuller.
Do you know the only thing that is better than a single messy bun? That's two messy buns. If you want to keep things fairly understated, then this bridal hairstyle is perfect. It will incorporate all your hair accessories into your updo. This type of style is suitable for any type of hair and you can blend two colors to create a nice contrast.
Need some wedding hair inspiration? A messy boho-chic updo, with a dash of sparkle, is perfect for your wedding day. This is the gorgeous and natural bridal updo that is intended. From brides to bride maids to the flower girls, it's fresh, fun, and appropriate for the aisle. To keep it delicate, leave a few strands of hair loose.
If you're a low-maintenance bride, then this twisted updo is sleek and will always be chic for you. This style is perfect for you because once it's up, it won't require any kind of attention throughout the day or function. And yeah, a red lip would be a great combo with this hairstyle.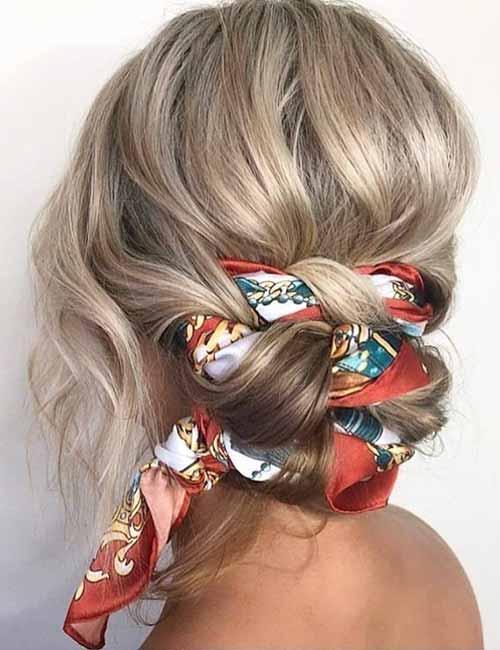 If you're a bohemian bride, then this hair scarf hairstyle will look bold and fabulous. Sweep your hair back into a messy bun and cover with your favorite scarf. The best thing about this hairstyle is it requires zero efforts.
Who said you can't wear your go-to top knot on your wedding day as well as every other occasion? If you've long hair, then this is the best hairstyle that you can go for. This type of top knot looks good when you have straight hair and not curly one.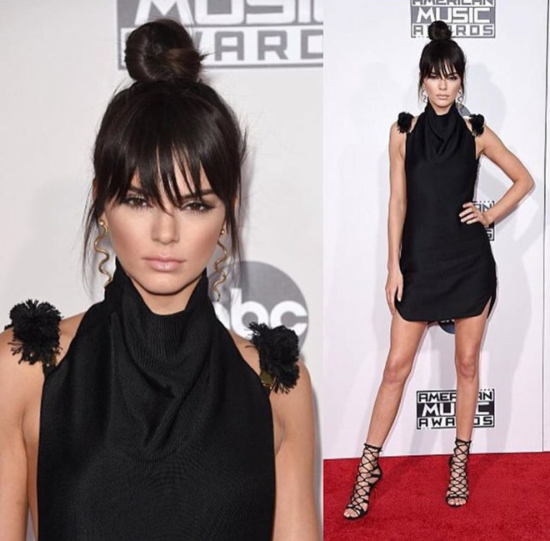 The tinker bell knot is elegant and feminine, and it's styled so that the end of the hair act as sleek, and wedding-ready. Tie your hair back into a loose bun which sits just above the crown, then pull some strands out around the face and neck.
This hair updo may seem too formal the first glance but looks angelic on your wedding day. You can't get a more romantic hairstyle! Keep things loose and let a few strands frame your face. Wearing the halo will help the messy bun hold better and look fuller. This kind of hairstyle looks great on straight hair.
This is the dream hairstyle for brides with curly hair. Tie your luscious locks onto the top of your head then let a few strands drop loosely towards your shoulders. You can use a bobby pin wherever you want to leave loose curls to hang from the bun. You can embrace your curls with this quick and easy style.
How to style a high-bun hairstyle?
So, do you want to try this fabulous high bun hairstyle? No worries, you can create a look with these five easy steps by yourself.
Things you need:
Dry shampoo
Hairbrush
Hair clips
Hair spray
2 hair ties
Step 1: First add some dry shampoo on your scalp and hairline to add grip and extra hold.
Step 2: Take a hair comb and tie your hair into a ponytail and secure it with a hair tie.
Step 3: After, that twirl the ponytail until it nestles around the hair tie like a chignon almost on its own.
Step 4:Now take another hair tie and wrap it around the knot.
Step 5: At last, secure your high bun with the hairspray and you're done.
Conclusion
You can choose these beautiful, simple, and elegant high-bun wedding styles that are recommended by a top hairstylist. If you've colored your hair, make sure to ask your stylist how often you should color your hair. The color shades used in the style will look more adorable and will create a beautiful blend.
Author bio:
Erika Rhein, a professional writer, and blogger by profession. I write on various niches, however, I prioritize writing on hairstyling and related topics. I always strive to provide users with useful and informative articles in a readable format. I aim to achieve a difference in my writing.